A trip to Thailand can be a backpacker's dream, but for those of us looking to indulge in the finer things in life, Thailand can be luxury lover's paradise.  Nestled among stunning beaches with never-ending views of the emerald-green Phang Nga Bay is The Naka Island, an exclusive boutique resort on Naka Yai Island, located just off the Phuket coast.
Part of Starwood's Luxury Collection, your journey to The Naka Island begins with a short speedboat ride from Ao Po Grand Marina, which is located 25 minutes from Phuket International Airport.
The entrance to The Naka Island alone is beautiful.  If they would've let me, I promise you I would've slept on the pier.  After the short golf cart ride down the pier, you stop just past the entrance to partake in a resort tradition, the beating of the gong.  Entering the resort you beat the gong once, on your way home, you beat the gong twice for wishes that you'll come back again in the future.
The property is amazing and made up of 67 villas designed with classic Thai elements that combine authentic island details and spectacular views.  Villas can start under $300, depending on the time of year, and with great amenities such as a myriad of water sports, including snorkeling, windsurfing and sailing, access to amazing tour packages for nearby islands, daily complimentary activities like yoga, mixology classes, cooking classes and Thai boxing, a heavenly spa, delicious dining options and free wifi throughout the resort (praises!), a stay at The Naka Island is well worth the price.
The Tropical Pool Villa I stayed in was like a mini adult playhouse.  A private pool, indoor steam room and outdoor tub were just a few of the little secrets waiting to be found.  Guests can sit back and relax as a welcome dish of mango and sticky rice is set up in room, or if high tea is more your style, The Naka Island staff can arrange that for you as well.
No trip to a luxury resort is complete without a day at the spa and Spa Naka is the place to be on the island.  An unparalleled sanctuary, Spa Naka is tucked into a garden like hideaway, free of all distractions and dedicated to guests' well-being.  Whether it's a facial, aromatic ritual, massage or their signature Watsu treatment, you can't go wrong with any of the spa treatments and the staff is phenomenal.
The place to be on the resort for sunset is the Z Bar.  Z Bar is easily accessible from your villa by a short walk, or if you're direction challenged like me, you can always have the front desk send a golf cart to your room to take you.  However you get there, when you arrive you'll see it was worth it.  The drinks, the tapas and the spectacular view just can't be beat.
After sunset, head over to one of the resort's two delectable dining options; Tonsai, which serves Thai and international cuisine, or My Grill for the best steak and seafood dishes.  My Grill became my personal fave, especially since I got to sit at the sunken in pool table and dine on dishes specially prepared for me by the head chef.  Score!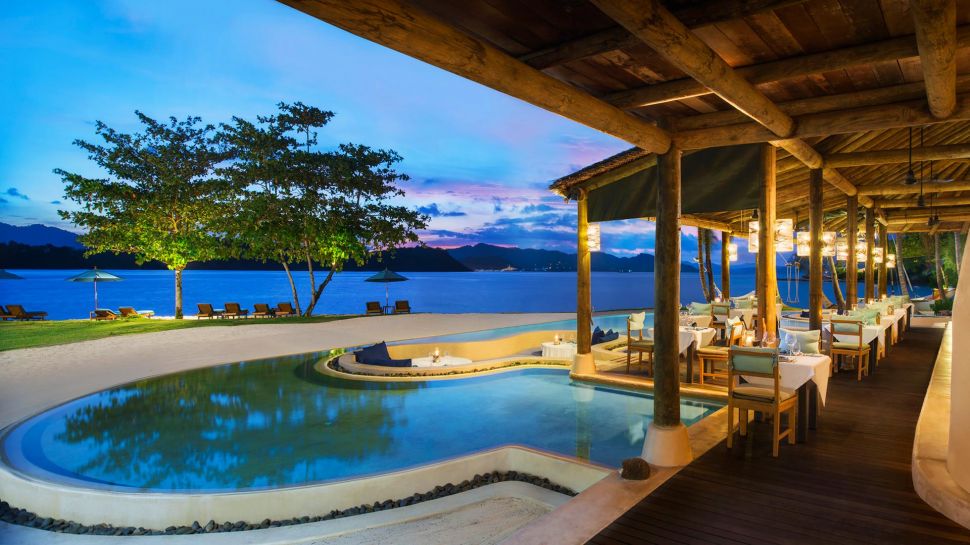 After a long day of luxuriating and dining on the finest foods, coming back to the villa to find a rose petal, candle lit bath prepared was an awesome surprise.  Like I said, the staff at Naka Island rocks.
The rest of your time can be filled simply lounging by the pool with a few good books and magazines, snacking on yummy treats and sipping frosty drinks, because one should never have to work too hard in paradise, and The Naka Island Resort is definitely paradise.
The Naka Island, a Luxury Collection Resort & Spa
Naka Yai Island
Phuket, Thailand
Tel: (66)(76) 371 400
Email: naka.reservations@luxurycollection.com